ARBEJDSSAL / WORKING SPACE:
UNDREVÆRKET udlejer vores smukke, roligt beliggende øvesal (B: 7,90 x D :8,30 H 265/2,45 ) med trægulv, lysindfald fra otte vinduer (der kan mørklægges ) og dansespejl til teater- og kunstformål.
Vi arbejder på at skabe en kunstnerbolig på vores pt. uistandsatte loft, men indtil da kan vi hjælpe med lokal indkvartering i Gudhjem til absolut rimelige priser.Vi kan også være behjælpelige, hvis i har lyst til at invitere et testpublikum eller et lokalt publikum.  Solokunstnere eller grupper kan arbejde med deres næste forestilling, og vi tilbyder gerne kunstnerisk feed back.
Kontakt os for nærmere info om priser og perioder. (NB:vi udlejer ikke til private fester o.l.)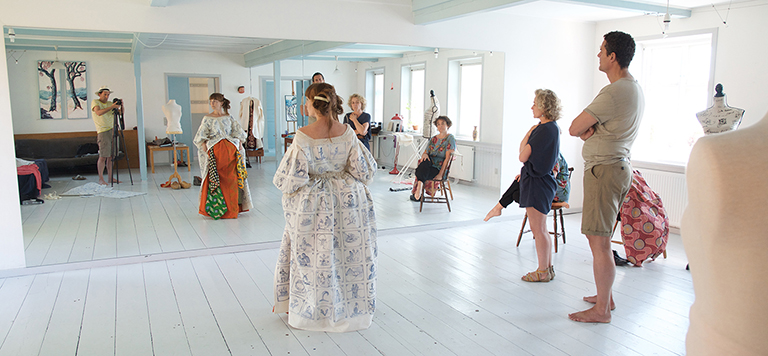 ENGLISH: Work on your performance or art project on the danish island Bornholm: We rent our working space to danish and international artists , who wants to work on their performances or art projects in Gudhjem.
Our dream is to create an appartment for the artists upstairs, but until that is a reality, we can help you to find accomodation in Gudhjem to fair prices.
The space is B: 7,90 m x D :8,30 H 265/2,45 , wooden floor, eight windows (that can be fully darkened) and a wall mirror.
Please contact us for further information about prices and schedules.
GUDHJEM is one of Denmarks most pittoresque villages.
In the 1930´s  the village attactred visual artists and painters, who started a whole new era in danish painting under the remarkable different and inspiring sorroundings.
Today you will experience a unique local life in Gudhjem, sorrounded by an impressive nature – with forests, beaches and steep rocky coasts. Bornholm is in these years a center for danish gourmet kitchen, sustainable technologies, cultural events and new out door activities .The  island attracts professional artists, young biological farmers, up coming beer brewers and creative small family businesses.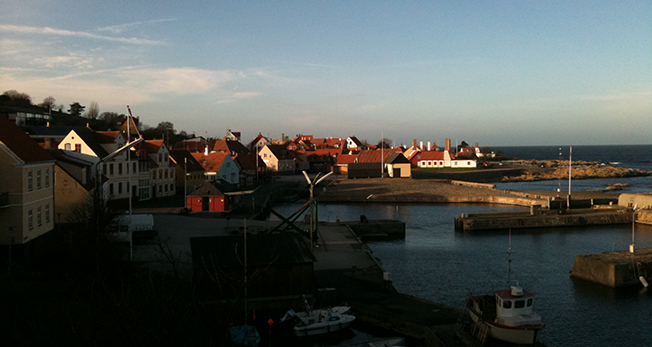 GUDHJEM  er en af Danmarks smukkeste og mest bemærkelsesværdie byer. Den har gennem historien tiltrukket et væld af kunstnere og nytænkere på grund af lyset, hverdagen og naturen.
I dag tiltrækker Bornholm kreative iværksættere i stor stil, øen boomer af kulturoplevelser, musikfestivaller, natur-aktiviteter, gourmetkøkkener, bæredygtige ideer og kreative løsninger på øens "udkantsproblemer". Og så er er selvfølgelig det berømte Folkemøde…