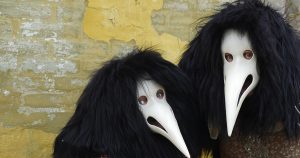 An open air performance in the picturesque valley "Holkadalen" in Gudhjem – for all ages and all nationalities.
"The rooks are coming!" is about life on Bornholm in 2018 inspired by the local bird life. It is about travelling the world or staying in one place, about silence and hectic activity, about following your own head or being part of the group – and about how it is to live in a world that is global and local at the same time.
Four actors meet on Bornholm to create the out door performance without a manuscript (devised theatre).The artists are working as a team, translating local themes and issues to visual theatre art in an out door performance for families, tourist and local 'bornholmere'.
The show is in 2018 specially created for Holkadalen.Duration 45-60 minutes.
Premiere 21.juni 2018 – 7.30 AM  (Free entrance).
June 24. -30. every evening – 7.30 PM. Extra performances June 28.- 4 PM and June 29. – 4 PM
Duration : Ca.1 hour.  Age:3-100 years
Park at Gudhjem Øvre or Gudhjem Havn and enjoy the walk to Holkadalen. Parking is also possible in Holkadalen,  from 1 hour before performance.
TICKETS
Svankegaarden +45 56  49 73 72 booking@svanekegaarden.dk
Ticket sale in Holkadalen 1 hour before performance.
You can buy coffee and drinks in the bar by Tejn Idrætsforening.
Free entrance for kids (max 15 years) to all shows
WITH: Helene Høm, Thomas Danielsen, Merete Byrial and Lukas Waldvogel (Switzerland). SET DESIGN & COSTUMES: Helene Høm. PRODUCTION: Undrevaerket, in a collaboration with Bornholms Teater and Svanekegaarden.
Supported by THE DANISH ARTS COUNCIL and local funds